UHS ESPTM advantages vs. standard equipment
30–60% power saving due to higher overall efficiency;
Efficient operation with unstable inflow due to a wide operating range and speed adjustments between 1,000 and 12,000 rpm;
Compact design and fully assembled delivery;
Plug&Play design: quick and easy installation within 20-30 minutes;
Operation in highly deviated wells, optimal tubing depth setting, and reduced well workover cost due to a compact design;
Higher resistance to solids, free gas, high temperature, and corrosive fluids;
Runlife extended to 1,000-1,500 days in harsh conditions of operation.
Overview
Lex Ultra-High-Speed ESP (UHS ESPTM) effectively increases well production, power-saving and provides reliable operation in harsh conditions. Before each installation, we analyze the relevant well-specific data and make calculations to inform a customized selection of equipment for every well.
Since 2016, we have installed more than 350 units at offshore and onshore projects worldwide.
UHS ESPTM is the world's first ultra-high-speed ESP system with the broadest operating range of 1,000 through 12,000 rpm and is adaptable to any unstable inflow. High operating frequencies result in 8-16 times more head per stage, 2-3 times shorter length than any conventional ESP and higher overall efficiency. The revolutionary modular design and hard alloys with ceramic friction pairs quadruple the resistance to solids to 2,000 ppm (2,000 mg/L) vs. standard equipment.
UHS ESPTM consists of the following components: a modular energy-saving pump, ultra-high-speed submersible Universal Permanent Magnet Motor (Universal PMM) by Lex, high-temperature four-bag seal, rotary gas separator, cooling system, shroud, and Hunter telemetry system.
We design and customize equipment packages using both third-party and proprietary software. Unlike conventional equipment, UHS ESPTM is tested and fully assembled at the manufacturing facility. After testing, it is delivered to the site ready for installation, requiring only unloading and MLE connection through the roller on the motor. This means that installing the UHS ESPTM is 3–4 times faster than installing a standard ESP, and the risk of installation error is significantly reduced.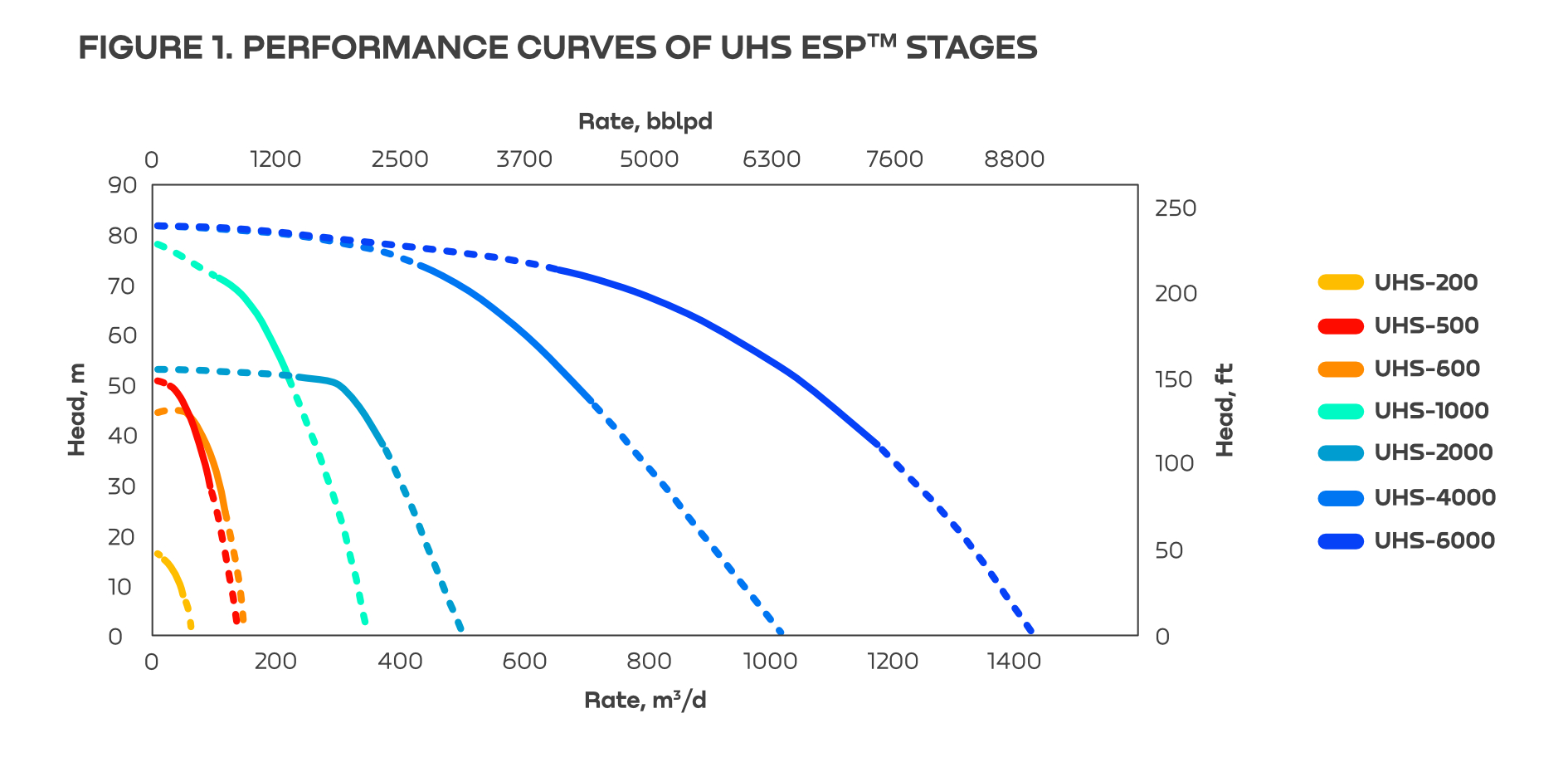 Applications
Deviated wells having extra production potential;
Wells having extra production potential and the possibility of installing under the perforated interval, including gassy wells;
Wells with higher energy consumption and limited power supply;
Low-rates wells more than 50 bblpd (8 m3/day);
Harsh conditions: highly deviated wells, unstable inflow, low production rate, wells with high free gas content and solids;
Remote fields with equipment delivery by helicopters;
Unstable or varying inflow after drilling, hydraulic fracture treatment, or bottom-hole treatment of the well.
Application limits
Min casing size 5.5" (139.7 mm);
Max sand content 2,000 ppm (2,000 mg/l);
Max free gas at intake 75%;
Max reservoir temperature 302 °F (150 °C).