Results
20% increase in oil production;
40% reduction in power consumption (equivalent to nearly 50 million kWh) since 2014;
23% increase in equipment runlife;
The runlife of UHS ESP has reached 15,000 successfully operated cycles in the well with over 2,000 ppm (2,000 mg/l) of sand content;
25% reduction in Total Cost of Ownership (TCO) in comparison with competitors.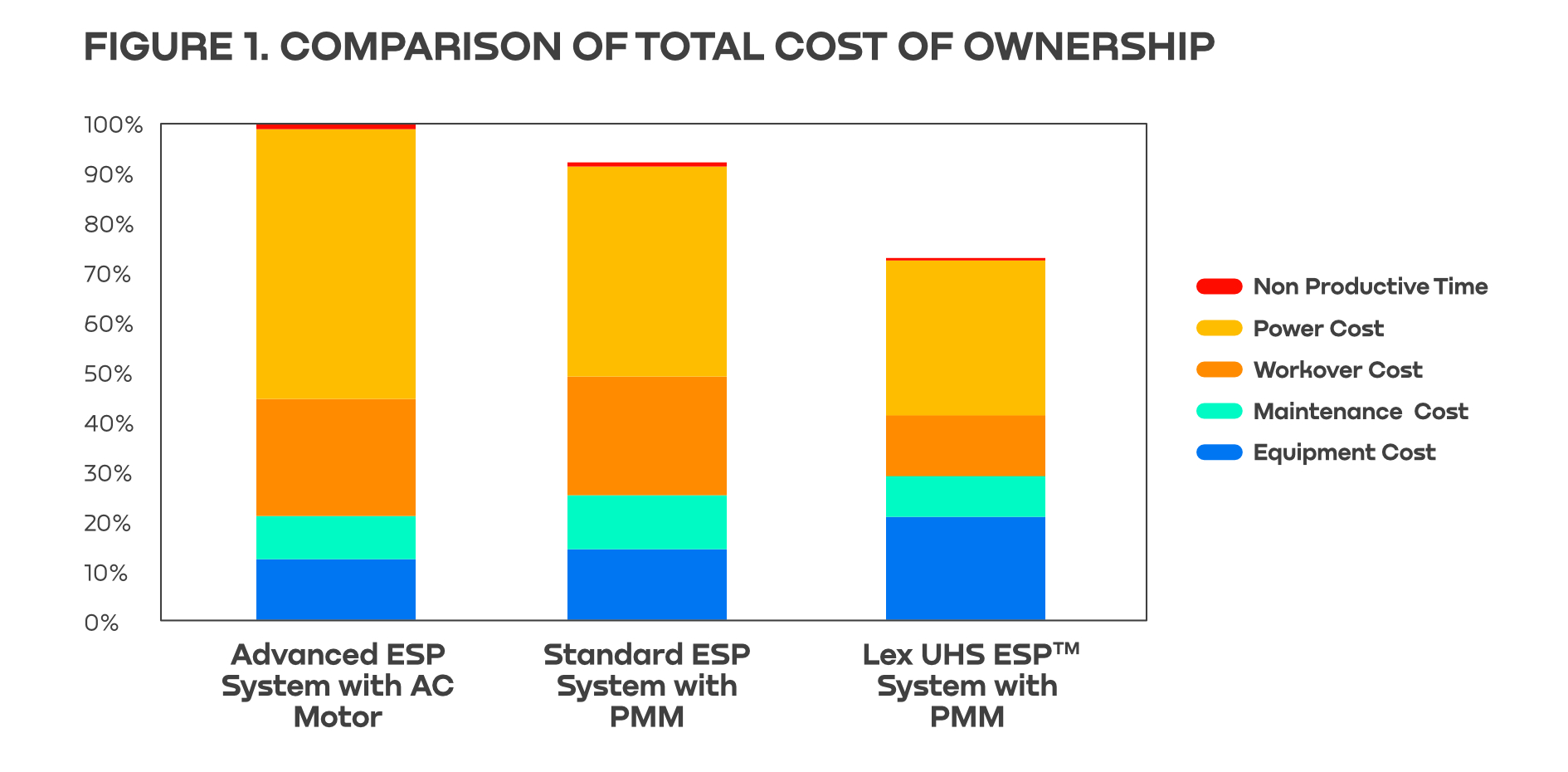 Fields' reservoirs are found at 6,900–8,200 ft TVD (2,100–2,500 m TVD). Oil wells are drilled from well pads, ESP friendly deviated along 8,860–11,500 ft MD (2,700-3,500 m MD) and completed with 7″ (177,8 mm) and 6.61″ (168 mm) API Casing. Downhole temperatures are ranging between 176 and 212 °F (80–100 °C).
The following complicating factors stalled to reach the production measures:
Narrow operating range of existing ESPs;
Gas content at pump intake is above 60%;
Sand content is above 1,500 ppm (1,500 mg/l);
High DLS;
High power consumption.
After doing research and detailed analysis, we proposed installing several models of Ultra-High-Speed ESPs with a nameplate operating speed of 10,000 rpm:
Low-flow-rate UHS-200 system designed for NP flow range from 50 to 280 bblpd with 190 bblpd at BEP (from 8 to 45 m3/d with 30 m3/d at BEP);
Wide-range UHS-500 system designed for NP flow range from 125 to 560 bblpd with 500 bblpd at BEP (from 20 to 90 m3/d with 80 m3/d at BEP);
Power efficient UHS-600 system designed for NP flow range from 280 to 720 bblpd with 500 bblpd at BEP (from 45 to 115 m3/d with 80 m3/d at BEP).
Upon every phase of technology deployment the client evaluated obtained results. They were found stable and consistent with prior results, allowing to development of a solid economic model.
Since 2016 UHS ESPTM systems are approved for use in group of fields under Lex engineering support and supervision.
We offer a centralized approach to the monthly delivery of equipment for installation and maintenance, due to the compact design of our UHS ESPTM units and minimum on-site preparation requirements. This allows us to avoid additional field workshops as the preparation of equipment can be conducted at a main repair facility and delivered directly to the field being ready for the installation (plug-and-play design).
Our results consistently demonstrate the high potential of Lex UHS ESPTM to optimize production and provide operational advantages in harsh well conditions.
UHS ESPTM advantages vs. standard equipment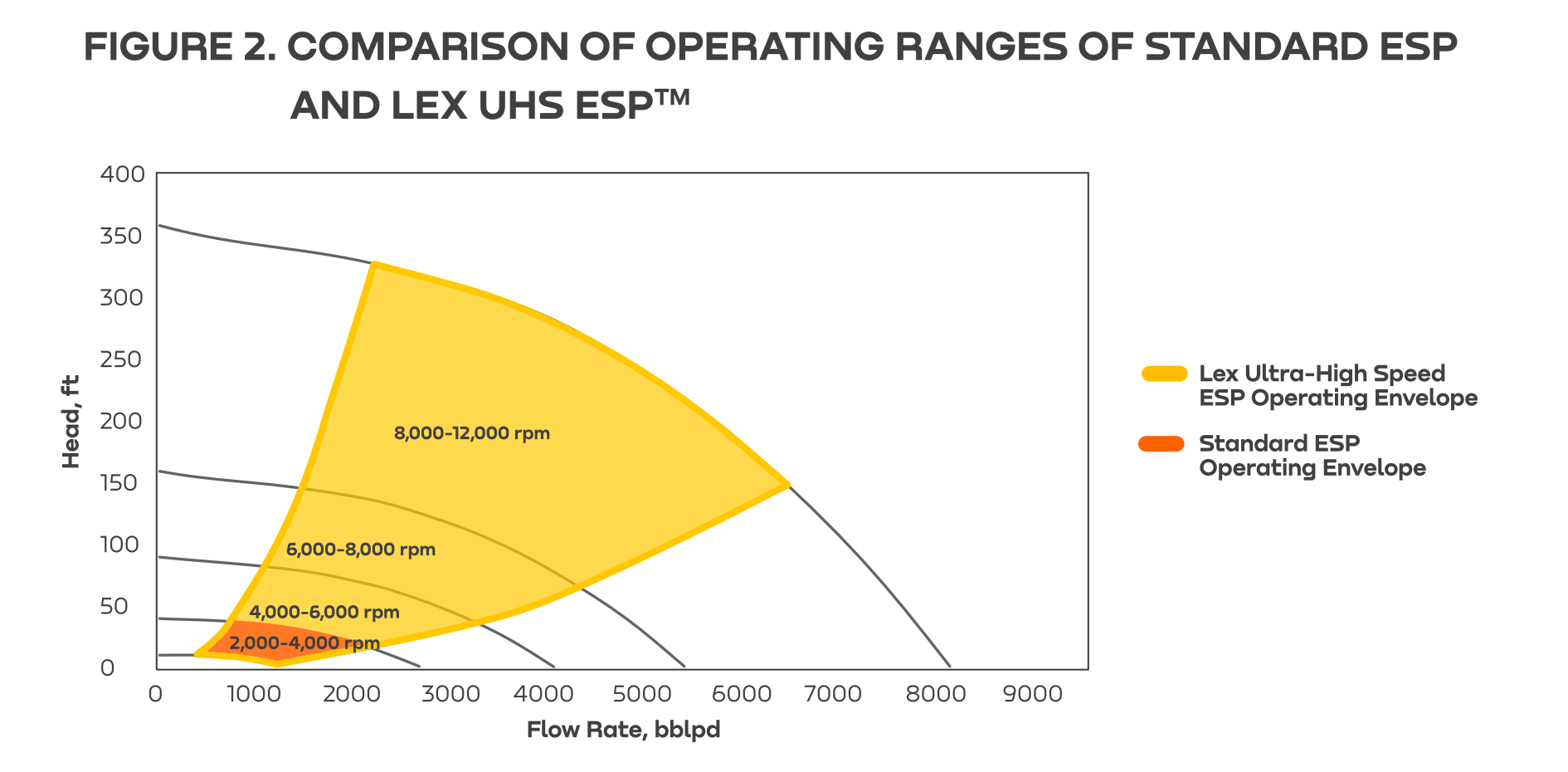 Wide operating range allows you to adapt to changes in inflow whilst maintaining higher efficiency.;
Reduction in the total length of UHS ESPTMs (by up three times) allowing passage through high DLS wells;
Improved gas separator efficiency leads operating with 75% gas at the pump intake;
Reliable operation with sand content up to 2,000 ppm (2,000 mg/l) is possible due to wear-resistant stage materials.
Implementation of Lex Ultra-High-Speed (UHS ESPTM) technology is increasing despite oil prices drop and OPEC+ 2020-2021 restrictions. For today, we installed more than 500 units at offshore and onshore projects worldwide.